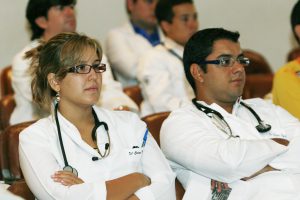 I received this letter from a friend in USA and I will put it as it is:
It is time now to ask ourselves this question:
Should we all as foreign medical graduates stay silent or reach out to make our voice heard and be treated as what we really deserve to achieve?
I practiced family medicine and dermatology in Egypt for almost 20 years after I got my MD from Faculty of Medicine, Assiut University in Assiut, Egypt. In 2003, I moved to the USA to achieve a better future to my kids and my family. I searched for how to practice medicine in the USA as a foreign medical graduate and I found out that I have to go through some tests to be licensed. USMLE which stands for United States Medical Licensure Examination is a mandatory test for all medical graduates including graduates of US medical schools to pass in order to be licensed to practice medicine in the United States. I applied for the USMLE which includes 3 steps and I passed all these steps in relatively high grades. I applied for residency programs in all 52 states. To my surprise, I did NOT receive any single invitation for an interview.
I called a lot of programs and they told me that the year of graduation is the problem. I was graduated in 1982 and they prefer recent graduates. I tried to explain to them that I passed all the USMLE steps in a higher grades than a lot of recent graduates of US medical schools but no one responded to me or even listened to me. By the way. USMLE assesses medical graduates in all basic and clinical subjects of medicine. It is, by statistics, the most challenging test in the USA and may be in the whole world.
I didn't waste my time and I didn't apply anymore for residency but I started teaching foreign medical graduates online and in live classes. I am so proud that a lot of my students achieved their dreams and got residencies in the USA.
Fast forward, one of my family members got Acne and needed treatment. We called the dermatology clinic to get an appointment. There was no available appointments for 6 months. A nurse practitioner will see him in 6 months. Wow!!
Thousands of medical school graduates working in research or minimum-wage jobs to support their families because residency programs do not accept them. Their only fault that they are graduates of foreign medical school. I understand that it is hard to evaluate their education abroad but the USMLE is more than enough test to evaluate their knowledge and ability to practice medicine in the USA.
My heart is broken when I see medical graduates and foreign doctors spend thousands of dollars on USMLE and residency applications while they are working in minimum-wage jobs for the hope to get a license to practice medicine while a nursing practitioner can freely practice medicine after four years of college and one or two years of internship.
I didn't mean to criticise nurses. They really do great job and without them, medical field will be totally messed up.
It is a lose-lose situation for America and all medical graduates to ignore this problem.
To all my colleagues, please speak up. Let all people around you and the legislature in your state be aware of this problem. Reach out to all communities, government and non-government organizations stand for this cause.
You spent a lot of years of your life studying and dreaming, please don't give up.